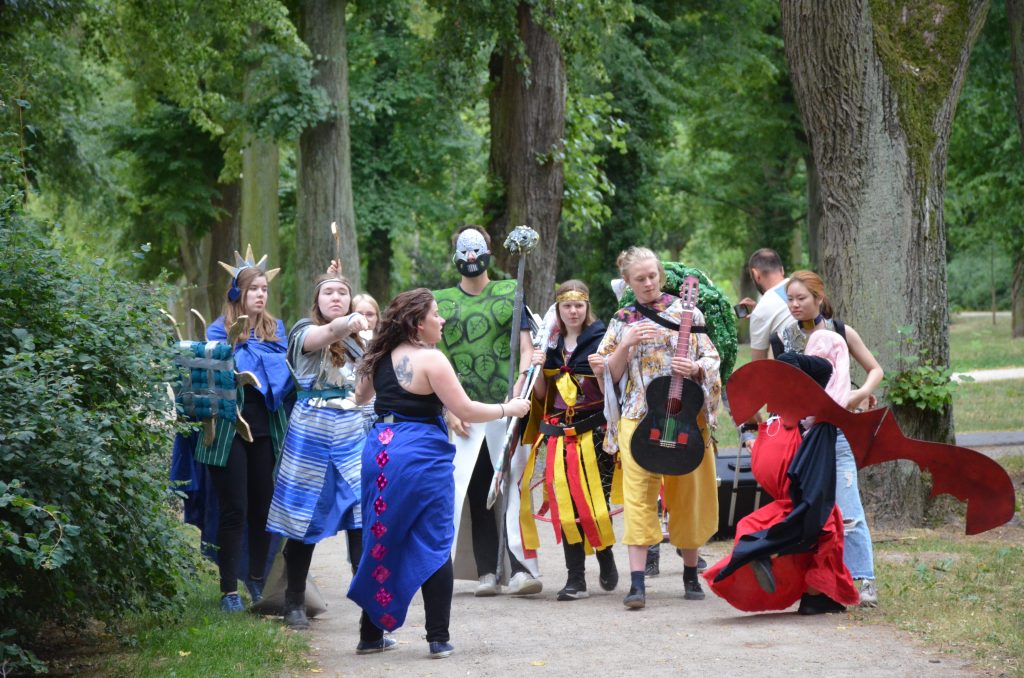 The project Mundane Heroics brings together a group of young role players from Sweden, Denmark and Finland to create a series of live tableaus in public space. Tableaus based on altered household objects that have been painted, remodelled and combined by the participants, so that they seem at once familiar and strange. These objects are picked up, worn and used as props by the participants as they combine fantasy fiction with elements from their everyday lives. By performing exaggerated and strange versions of gestures taken from the multitudes of everyday tasks most of us perform daily, often without noticing, they become mundane heroes in a series of wordless heroic everyday tableaus in public space.
Mundane Heroics is combination of Live Action Role Playing, performance art and sculpture for young people. The project is organised by the artist Kristoffer Ørum, who has worked with LARP for more than a decade, and his co-designer Nilas Dumstrei in collaboration with Live Art Denmark and supported by The Nordic Culture Point and The Nordic Culture Fund.
Article about the art-larp format: "More Than a Game" (Frieze)
Mundane Heroics was developed in Germany and presented in:
ANTI festival, Kuopio, Finland, 13.-15.September 2019
LIVE ART FOR CHILDREN, Nordkraft theatre, Aalborg, Denmark, 15.-16.Oktober 2019
BÄSTA BIENNALEN, Lund, Sweden. 26.Oktober (twice), 2019.
See images from the four countries here: Mundane Heroics