Forschungstheater
Works with Live Art Denmark
2015 "The Children's Bank" at Live Art for Børn 2 in Ishøj (Denmark), Malmö (Sweden) and Landskrona (Sweden)
2016 Premiere of "50 farlige ting" at Live Art for Børn 3
2017 "The Children's Bank" at Horsens Happening
2020 "Kaputt", workshop at Live Art for Børn festival, Copenhagen.
The Children's Bank
As a part of Horsens Happening we established the Children's Bank in Horsens. Participating kids made their own money and explored what they could do with it. The project gives children and their adults multiple opportiunities to reflect upon the importance of money in our lifes.
At Live Art for Børn 2 the Kid's Bank opened again, this time in Ishøj (Denmark), Malmö (Sweden) and Landskrona (Sweden).
50 farlige ting
At Live Art for Børn 3 we presented a Danish version of Forschungstheater's "Da Gefahr" called "50 farlige ting". Since then kids have tried out dangerous things in more than 100 shows of our version all over Denmark and Scandinavia. The performance is still touring today.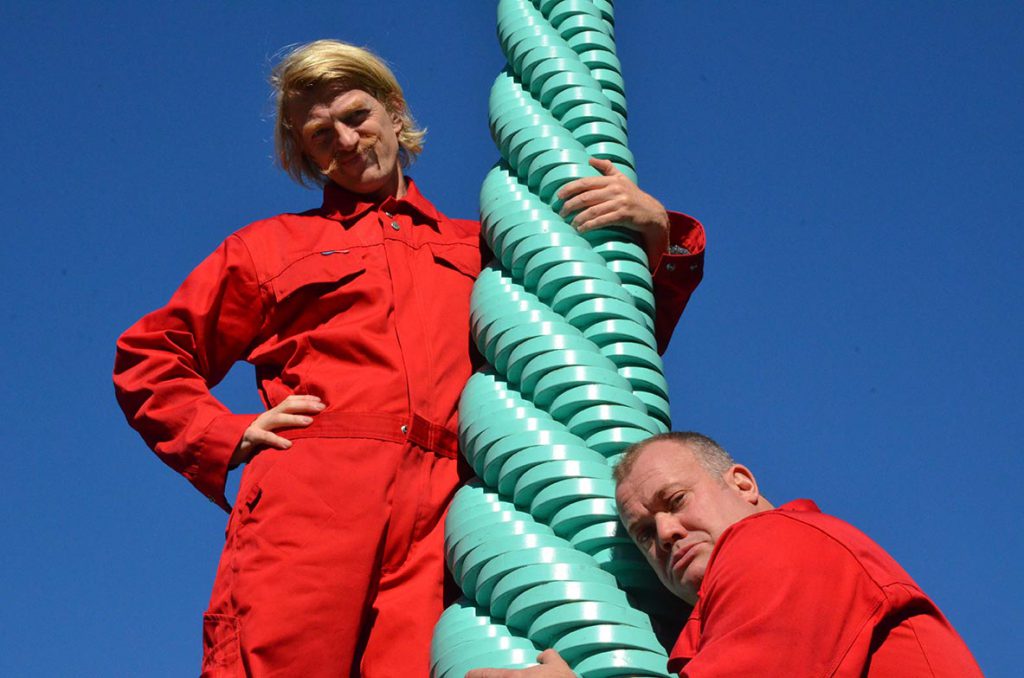 Kaputt
Can we see destruction in a different way if we look at it through the lens of Live Art? Will we be able to see that destruction is not only about violence, hatred and rage, but that there is more to it? We organised this workshop in collaboration with our friends from Forschungstheater in Hamburg/Germany as a part of our Live Art for Children festival at Copenhagen Contemporary in 2020. It was our first step into an ongoing exploration of destruction as a cultural strategy that can be marvellous, manifold, careful and mindful. Many examples from art history provided inspiration for the actions we tried out and invited our audiences to try themselves, including Gustav Metzger, Katharina Duve, Dieter Roth, Eva Meyer-Keller, Jeremy Deller and Steven Cripps.
The Kaputt workshop provided plentyful inspiration for our our own production "Kaboom", which  tours successfully and has been selected as a showcase performance for CPH STAGE's international days in 2022. A new version of "Kaputt" is presented in MAnnheim/Germany in February 2023.
About the Artists
We have collaborated with Fundustheater/Forschungstheater from Hamburg/Germany on several occasions. This is a statement they made about their work and motiviation: "Kids are explorers of the everyday. For them to light a match can be something extraordinary that needs focus and time and creates an experience. The same is true for everyone who practices Live Art. For Forschungstheater kids are perfect accomplices. And in return Live Art can provide something that is essential to all of us, but especially to kids and their wellbeing: the acknowledgement of their action and their thinking, the reassurance that everything counts, that everything can make a difference, the frame of beauty and reflection and the experience that we can set it up anytime and anywhere we want."
More on Forschungstheater's website.