Søren Thilo Funder
Work for Live Art Denmark
2012 "Rites of Passage (Keep alive)" for Samtalekøkken
2013 "First Citizen" video for the Turku Biennial
Rites of Passage (Keep alive)
At Samtalekøkkenet in September 2012, Søren presented "Rites of Passage (Keep alive)". A man in formal evening dress slowly descends a set of chairs, and carefully unfolds a white sheet of fabric, which he holds out in front of him. On the sheet, a video is projected which shows a variety of documentary footage of public situations of mourning. Crowds of crying people in the street, watching a hearse go by, audience and players of sports events standing in silence, heads bowed, formations of soldiers standing at attention, political rallies taking a break to commemorate fallen comrades. By standing silently and motionlessly, the rituals of public mourning re-perform the absence of the deceased. In the performance, the mourning ceremonies on video are re-ritualised through the construction of a situation that is at the same time "live" (there is a performer), and not (he does not do anything but hold the sheet). Does not "live" (as in "live performance") mean dead?
First Citizen
We invited Søren to participate in the video program of the Turku Biennial 2013, of which we curated the Danish participation under the theme of idyl.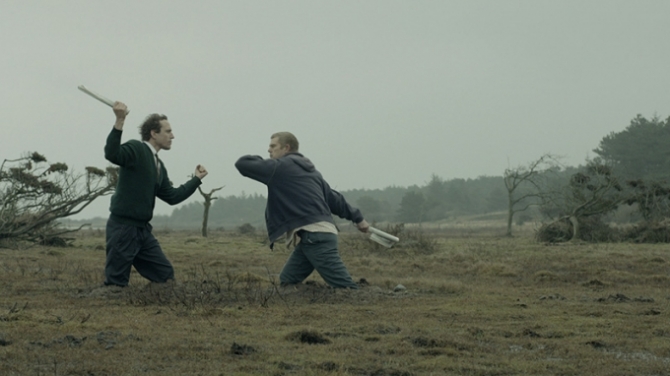 "If idyll is a coin, the word guilt is engraved on the back", Søren said about his contribution to the biennial, the 12'30 minutes long HD Video "First Citizen". On the video we see the renactment of a documentary from 1949, which shows how a therapist plants a traumatic guilt complex in a patient under hypnosis. Søren claims that guilt holds society together. From our debts to financial institutions to internalized guilt complexes: To be a citizen is to be guilty.
About the Artist
Søren's works have been called "formal investigations of the power relations of modern day society". Through the use of conceptual visual strategies, cinematic narratives and mise en scène, his works aim to expose the precariousness of contemporary society using fiction to generate new potential spaces for political contemplations and counter-memory.
Søren holds an MA from the Royal Danish Academy of Fine Arts and The School of Art and Architecture at the University of Illinois at Chicago. He has been an artist-in-residence at Künstlerhaus Bethanien in Berlin, SOMA in Mexico City, Townhouse Gallery in Cairo, Frankfurter Kunstverein in Frankfurt and Platform Garanti in Istanbul.
Søren's website offers a rich portfolio of his works.