Mark Harvey
Works with Live Art Danmark
2012 "Home Renovation" at Salon Saloon
2014 "Welcome Stop" and "Forward and Back" at Hitparaden 2
2016 "Entrance Party" and "Pssst" (with Leena Kela) at Live Art for Børn

Home Renovation
Salon Saloon was a series of performance events we organised at our home in the Vestrerbro district of Copenhagen. Mark's first performance for Live Art Denmark was a site specific series of endurance based performative actions, marking a path through our apartment, all in close proximity to the audience. His entrance was especially memorable, when, lying on his stomach, he used a pair of toilet plungers to pull himself through the different rooms of the place, casually greeting the people he met.
Welcome Stop
At our festival Hitparaden 2, Mark presented two different performances. With the first one, "Welcome Stop", he greeted audience members entering the festival venue, Pumpehuset in Copenhagen. Everyone who wanted to come inside to attend the festival had to try to push over Mark, who was guarding the door, trying to keep them out.
Forward and Back
Mark's second performance for Hitparaden 2 was called "Forward and Back", and it explored a similar theme in a studio setting. Mark placed and repositioned all audience members to form a sort of parcours that he used to walk through the space backwards, without seeing where he was going. Sounds abstract, but was very entertaining. See for yourself in the video below.
Entrance Party
A new version of his door-keeper performance for Hitparaden 2 was developed in 2016 for the thrid edition of Live Art for Børn. Once again he was trying to find out what audience members will do to get past him and into the festival venue.
Pssst!
At the same festival, he presented this collaboration with Leena Kela. The aim of the work was to let spectators take over the performance. The artists, standing motionless on boards with wheels, did not walk or talk, but they did engage in conversation with small utterances while they were moved around the space by the spectators. Pssst! explored what happens when an audience physically controls the performers and become manipulators of the soundscape and the differences between spectators and performers are reduced.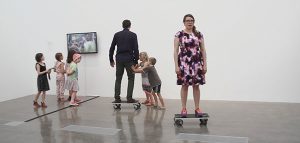 About the Artist
Mark Harvey is a New Zealand based performance artist and live artist. His practices are conceptually driven and often dialogue and test out notions of minimal endurance with constructions of idiocy, seriousness and deadpan humour, drawing from his visual arts and choreographic influences.
Some of the galleries and live art events, Mark Harvey has presented work in, include: Enjoy Public Art Gallery (Wellington, NZ, 2003), Govett Brewster Art Gallery (Taranaki, NZ, 2006), Physicsroom Contemporary Artspace (Christchurch, NZ, 2002 and 2006), Parnu International Video and Film Festival Pain in the Class (Estonia, 2006), PSi 15 (Croatia, 2009), Livingroom in collaboration with Isobel Dryburgh (Auckland, NZ, 2010), Letting Space at the New Zealand International Festival of the Arts (2012) and the 55th Venice Bienalle for Visual Arts (2013). He has writings published internationally in a range of topics related to performance, art and live art such as The Live Art Almanac (2013), The South Project (2013), Performance Research Journal (2006, 2010 and 2013), and The Swedish Dance History (2012). He holds a PhD in performance practice from the AUT School of Art and Design and is a Senior Lecturer at NICAI, The University of Auckland, New Zealand.
There seems to be currently no personal website of Mark Harvey on the Internet, but here is his profile from Auckland University.