Kristoffer Ørum
Work with Live Art Danmark
2019 "Mundane Heroics", ANTI Festival, Finland, Live Art for Børn, Theater Nordkraft, Aalborg, Denmark, Bästa Biennalen, Lund, Sweden
2022 "A Human Pretending To Be An Artist Pretending To Be A Crayfish" at Friisland Live #3
Mundane Heroics
The project combines Live Action Role Playing, performance art and sculpture in a participatory project for young people. It brings together a group of young role players from Sweden, Denmark and Finland to create a series of live tableaux in public space. The participants work with everyday household objects, paint, remodel and combine them until they appear familiar and strange at once. The objects are picked up, worn and used as props to combine fantasy fiction with elements of their everyday lifes. By performing exaggerated and strange versions of gestures taken from the multitudes of everyday tasks performed daily, often without noticing, they become mundane heroes in a series of wordless heroic everyday tableaux in public space.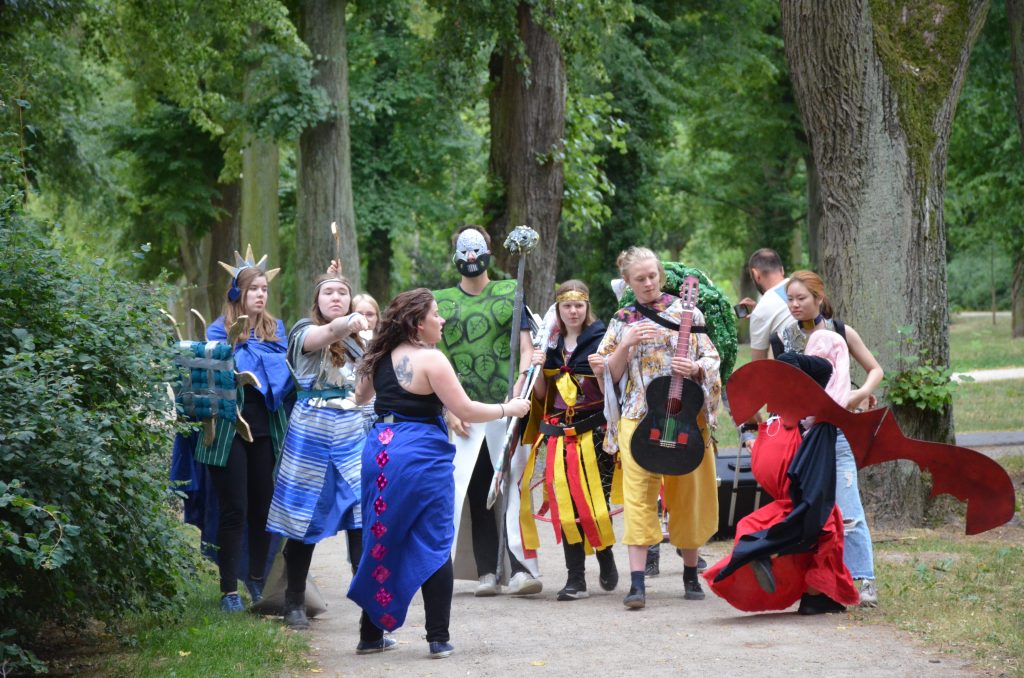 A Human Pretending To Be An Artist Pretending To Be A Crayfish
Kristoffer was part of the third night of live performances at Friisland, our project space in the wild Nordhavn area of Copenhagen. He contributed a performance lecture wearing a silly crayfish costume, that dealt in intelligent ways with the myriad semantic difficulties of presenting oneself, as a human or a crayfish, meeting or disappointing any audience's expectations. To illustrate the content of his lecture, he employed a simple device with surprisingly spectacular and pleasantly irritating results: While he spoke, a feed of a similar, but not quite the same text, was displayed in a video projection behind him, with  rapidly changing colors and lettering.
An unplanned highlight was the appearance of Wolt-deliviery person and performer David Sebastian Lopez Restrepo, interrupting Kristoffer's performance by delivering tasty snacks.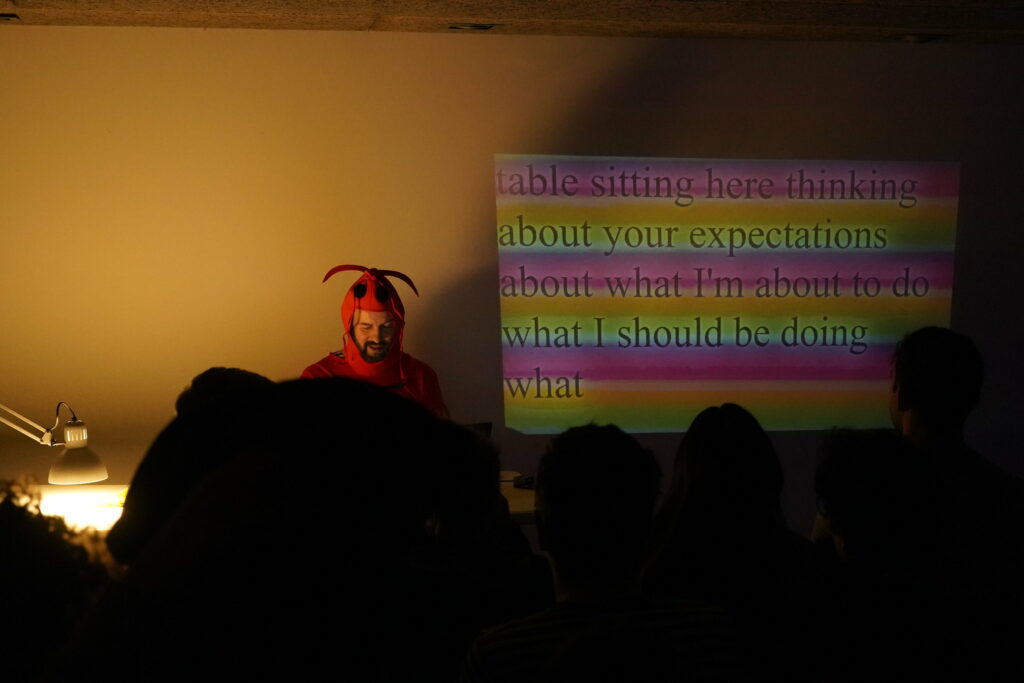 About the Artist
Kristoffer is an interdisciplinary researcher and artist based in Copenhagen. His work deals with the impact digital technologies have on our contemporary everyday lives. He misuses and misunderstands ubiquitous technologies such as computer vision and wireless networks, creating narratives that run counter to the dominant narratives of fear and despondency.
His foundations in the art world provide him with a base from which he teaches, writes, exhibits and organises in a wide variety of contexts. From the self-organised to the institutional, in and outside of the art context.
He thinks of himself as an aggregator of material and ideas from a shared cultural sphere rather than an authoritative author. As such he maintains an "open practice" where he publishes and discusses his work on social media as it develops and changes.
Learn more on Kristoffer's activities on his website, Facebook or Instagram.