Kirsten Justesen
Work with Live Art Danmark
2019/20 "Ice Hands", performance score for "Playing Up"
Ice Hands
Some artists create marble and stone sculptures that last for thousands of years. Kirsten Justesen began early on to work with her own body as a form, and later with ice as a material. Her sculptures do not last forever, because the ice and the body, which are both shaped by nature's processes, change and disappear with time.
In our performance game Playing Up, we included two instructions that were inspired by Kirsten's various works of body art that used ice as their central ingredient. Participants were asked to hold an ice cube in their hand and watch it melt, or to put an ice cube in a plastic bag and attach it to their clothing with a safety pin, enacting a re-creation of Kirsten's 1999 multiple "Melting Time #9".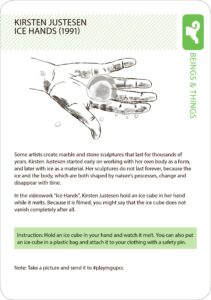 About the Artist
Kirsten has created exhibitions, events, museum installations, performances, and murals since the mid-60s. She lives and works in Copenhagen and New York City. After studying classical sculpture, Kirsten graduated from the Royal Danish Academy of Fine Arts in 1975. Her work includes body art, performance art, sculpture and installation. She was part of the 1960s avant-garde scene and a pioneer of three-dimensional art that incorporates the artist's body. She created feminist art intended to challenge traditional value systems during the 1970s. Her later works examine relationships between body, space, and language.
She advocates for women artists' rights and influence in the art world through her work on various boards and positions in foundations, and by co-organizing seminars concerning women artists' positions in society.
An overview of the works she created and exhibitions she participated in during her long career can be found on her website.