Fatric Bewong
Works with Live Art Danmark
2019 Performance Opskrifter
2022 "Seven" Workshop at Live Art for Børn, Aarhus.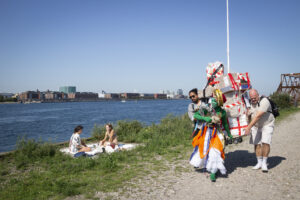 Recipe for Performances
In her interdisciplinary art practice, Fatric focusses on the complex relationships between colonialism and pollution. During her residency at Copenhagen Contemporary she created a walking performance which led her along the further reaches of Copenhagen harbour. With her face painted green and carrying a massive pile of makeshift luggage on her back, she succeeded in inspiring audiences and passers by to reflect issues of migration and colonialism.
In a performance recipe that she contributed to our collection that allows audiences to recreate performances that took place at an earlier date, she asks participants to research a near extinct animal from each of the seven continents and perform their movements.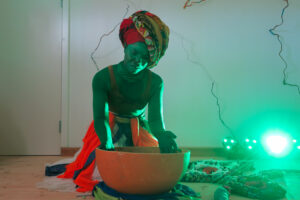 "Seven" Workshop
Fatric left the recipe in our collection, and we used it to inspire our audience to create performative images at Live Art for Børn in Aarhus 2022. Facilitated by our specialist for Live Action Role Play, Nilas Dumstrei, participants in the workshop were invited to choose one of the seven continents, research an endangered animal on this continent, and incorporate it, using recycled materials, sounds and movements. The picture below shows one of our favorite results: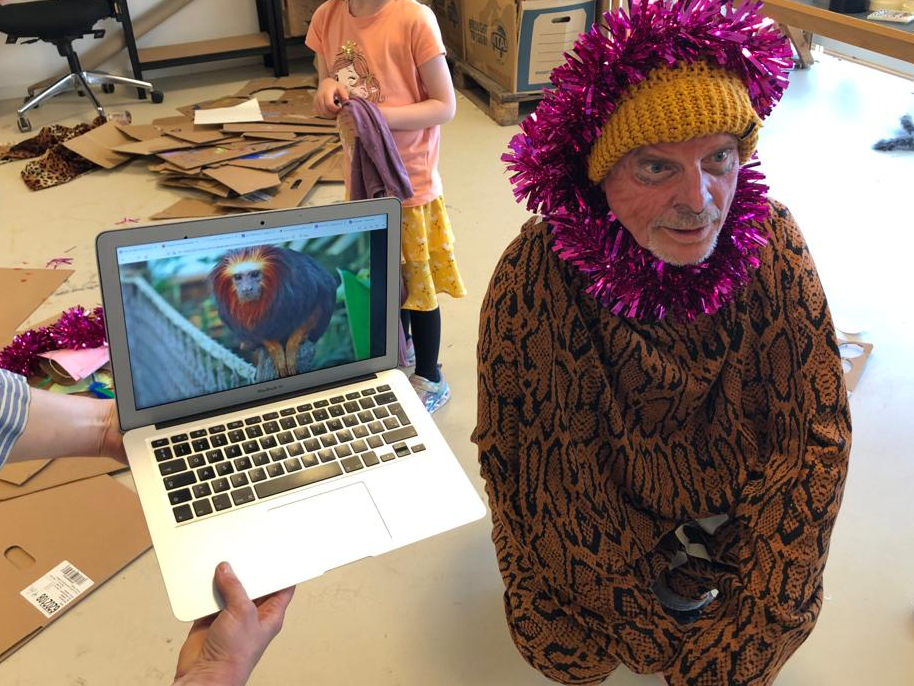 About the Artist
Fatric Bewong is an artist and a teacher. Her interdisciplinary practice traverses the studio, the classroom, the field, and the community. Her body of works explores themes like consumerism, discard, waste, loss, death, memory, healing and stories. How do we understand our 'being'? How does our understanding of who we are impact the relationship with our environment and vice versa? Her artistic expressions manifest in the form of performative installation, painting, photography, video and sounds.
She holds a BFA and MFA from Kwame Nkrumah University of Science and Technology (KNUST) and the University of Hartford respectively. She has exhibited extensively in her home country Ghana as well as in other countries including Australia, USA, Switzerland, El Salvador and Denmark.
Fatric continues to work in different capacities such as coaching, mentoring, and facilitating projects in and outside the classroom.
Find out more about Fatric and her work on her website.